An Alabama man affiliated with the far-right Oath Keepers militia group pleaded guilty Wednesday to seditious conspiracy for his actions leading up and through the Jan. 6 riot, marking the first person involved in the violent attack on the U.S. Capitol to be convicted of the rarely used charge.
The sentencing guideline range for Joshua A. James, who also pleaded guilty to a charge of obstruction of an official proceeding, was estimated to be 7¼ to nine years in prison.
The 34-year-old from Arab, Alabama, acknowledged getting into a physical altercation with a police officer while inside the Capitol and participating in a plan to use force to hinder or delay the transfer of presidential power. James also agreed to cooperate with authorities investigating the riot, including testifying before a grand jury.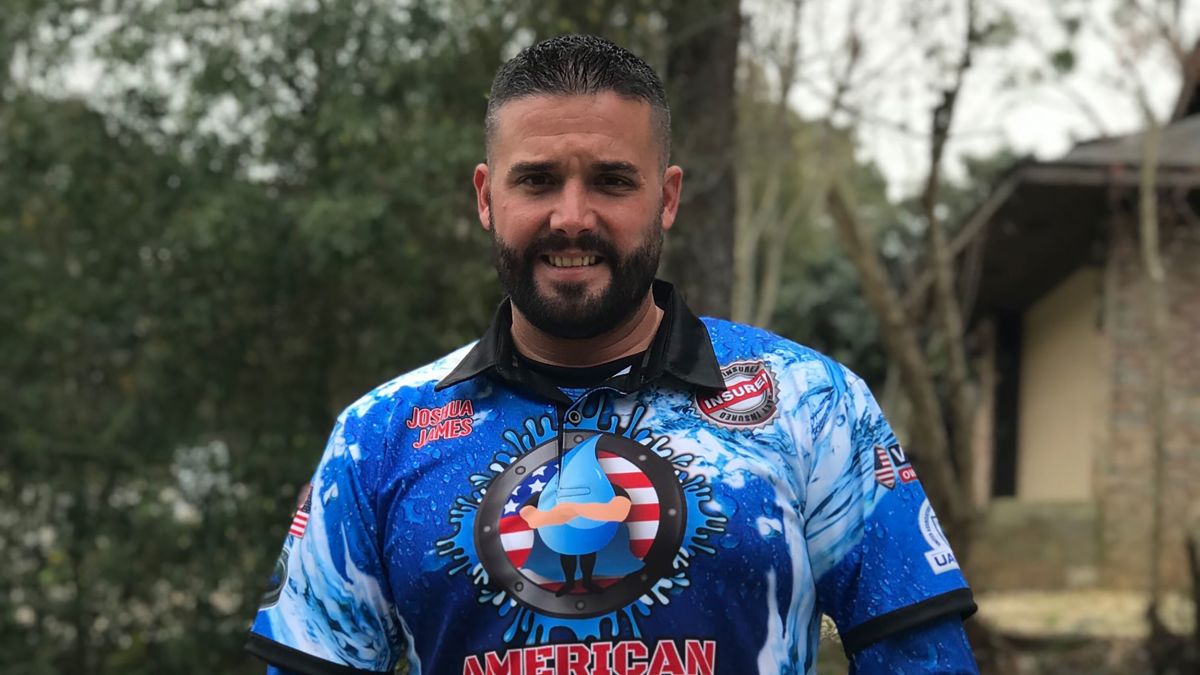 Authorities say James and others affiliated with the group rode golf carts to the Capitol, moved through the crowd in a military-style "stack" formation and went into the building.
James was accused of pushing past officers who tried to stop rioters from moving toward the Rotunda, joining others who confronted officers and profanely proclaiming the building was his. A week before the riot, James said in an encrypted chat that he believed teams within the militia group were adequately armed, prosecutors said in court records.
While four other people connected with the Oath Keepers have pleaded guilty to obstruction of Congress and a lesser conspiracy charge, James is the first among the 11 people associated with the group to plead guilty to a seditious conspiracy charge.
The seditious conspiracy prosecution is the boldest publicly known attempt so far by the government to prosecute those who attacked the U.S. Capitol. The group's founder, Stewart Rhodes, and others have pleaded not guilty to seditious conspiracy and other charges. A seditious conspiracy conviction carries a maximum penalty of 20 years, compared with five years on the lesser conspiracy charge facing other group members.
Those charged with seditious conspiracy are accused of working together to use force to stop the peaceful transfer of presidential power. Authorities say participants discussed their plans in encrypted chats, traveled to the nation's capital from across the country, organized into teams, used military tactics, stashed weapons in case they felt they were needed and communicated with each other during the riot on Jan. 6, 2021.
Prosecutors say the group set up a "quick reaction force," or QRF, that kept guns at a hotel in nearby Arlington, Virginia, and were prepared to bring the weapons into Washington if Rhodes or associates believed the need arose. Days before the attack, one defendant suggested getting a boat to ferry weapons across the Potomac River. In the end, the QRF teams didn't bring guns into Washington.
At the Capitol, Oath Keepers marched in two teams in stack formation, with team members advancing forward with one hand on the shoulder of the person in front of them.
More than 750 people have been charged with federal crimes related to the riot. Over 220 riot defendants have pleaded guilty, more than 100 have been sentenced and at least 90 others have trial dates.
The longest prison sentence handed down so far to a Jan. 6 rioter was given to Robert Palmer of Largo, Florida.
Palmer, who was sentenced to of 5-1/2 years in prison, acknowledged hurling a wooden plank at officers protecting a Capitol entrance, spraying a fire extinguisher, then throwing it when it was done.
The attack resulted in the deaths of five people, including a police officer. More than 100 officers were injured. Rioters caused over $1 million in damage. __ Billeaud reported from Phoenix.
_______________________
Oath Keepers
Key Points:
The Oath Keepers are a large but loosely organized collection of right-wing anti-government extremists who are part of the  militia movement, which believes that the federal government has been coopted by a shadowy conspiracy that is trying to strip American citizens of their rights.
Though the Oath Keepers will accept anyone as members, what differentiates them from other anti-government extremist groups is their explicit focus on recruiting current and former military, law enforcement and first responder personnel.
While there is a formal national leadership, on the local level many Oath Keepers are essentially self‐organized, and form official, semi‐official or informal groupings of Oath Keepers.
The Oath Keepers were particularly active in 2020, participating in various anti-lockdown protests, providing vigilante-style "security" for local communities and businesses during the Black Lives Matter protests that spread in the wake of the killing of George Floyd, and warning about a potential takeover by the "Marxist left" during the 2020 election.
The group gained notoriety for their armed participation in disputes between ranchers or miners and federal agencies, particularly in 2014 and 2015. However, their decision to retreat from the Bundy Ranch standoff in 2014 out of a fear of possible drone strikes tarnished the group's reputation among other anti-government extremists.
Members of the Oath Keepers have been arrested in connection with a wide range of criminal activities, including various firearms violations, conspiracy to impede federal workers, possession of explosives, and threatening public officials.
At least nine people associated with the Oath Keepers have been charged with conspiracy in connection with the January 6, 2021 attack on the U.S. Capitol.
Origins and membership
Founded in 2009 by Stewart Rhodes, the Oath Keepers is a large right-wing anti-government extremist group. The group has attracted considerable media attention in 2020 for providing vigilante-style "security" for local communities and businesses during Black Lives Matter protests, for their aggressive rhetoric in the lead up to the 2020 election (including asserting that the "Marxist left" is trying to seize control of the United States which led Twitter to de-platform the group) and for participating in various anti-lockdown protests.
The Oath Keepers are a large but loosely organized collection of anti‐government extremists; membership data is closely guarded. ADL estimates there are between 1,000 and 3,000 Oath Keepers, though the group's influence extends well beyond that number.
The Oath Keepers are part of the militia movement, a subsection of the broader anti‐government "Patriot" movement – which consists of sovereign citizens and tax protesters, among others – that believes the federal government has been coopted by a shadowy conspiracy that is trying to strip Americans of their rights. What differentiates the Oath Keepers from other anti‐government extremist groups is that the Oath Keepers explicitly focus on recruiting current and former military members, police officers and first responders (although they accept anyone as members).
The ideology of the Oath Keepers most closely resembles that of the militia movement, whose adherents believe that the United States is collaborating with a one‐world tyrannical conspiracy called the New World Order to strip Americans of their rights—starting with their right to keep and bear arms. Once Americans are rendered defenseless, they will be enslaved by the New World Order. While this terminology reflects some of the language used by explicitly antisemitic groups, antisemitism is not a foundational issue for the Oath Keepers.
Founder Stewart Rhodes is a former Montana attorney and Army veteran who acts as the group's main spokesperson. Under his leadership, the Oath Keepers are essentially an updated and more successful version of a similar 1990s group, Police Against the New World Order, started by retired police officer Jack McLamb, who died in 2014. McLamb warned of post‐Cold War chaos perpetrated by an elitist‐controlled New World Order, while Rhodes warns of an insidious global oligarchy bent on destroying America's constitutional republic.
The Oath Keepers aim much of their propaganda at members of military and police, reminding them that they swore an oath to defend the Constitution "from all enemies, foreign and domestic," and asking them to pledge to disobey theoretical unconstitutional orders they might get from superiors—orders that explicitly or implicitly reference militia‐related conspiracy theories, such as mass gun confiscation or rounding up Americans to put them in concentration camps. Each theory goes back to the idea that the U.S. government has fallen under global governance and will at some point use police and military members to enforce the New World Order's plans. The Oath Keepers urge military and law enforcement personnel to step up to stop the conspirators.
The number of active duty police and military personnel who have publicly admitted to being Oath Keepers is very small; the number of closeted members may be larger. The Oath Keepers have had more success in recruiting former military personnel, which is a much larger pool to draw from; many Oath Keepers speak of past military service. The group has also recruited from among people already involved in the anti-government extremist movement.  Membership has never actually required current or former ties with military, police, or first responders.  The popularity of Oath Keepers social media accounts illustrates clearly that many more people support the Oath Keepers without ever officially joining (which requires paying dues).
Based on its monitoring of the Oath Keepers, ADL estimates that the group has up to several thousand members, though the Oath Keepers have claimed far more.  This estimated size would still make the Oath Keepers larger than any single traditional militia group. Though there is a formal national leadership, on the local level many Oath Keepers are essentially self‐organized, forming official, semi‐official or informal groupings of Oath Keepers in specific, sometimes even overlapping, geographic areas. /adl.org/